VALUATION AND AUTHENTICATION OF JEWELRY PIECES
ENHANCE AND MODERNIZE CUSTOMER'S JEWELRY
DIGITAL CERTIFICATES & GUARANTEES
CERTIFIED DIAMONDS
We are experts at evaluating and appraising diamonds, hence, we offer GIA, HRD and IGI certificated diamonds.
We can personalize corporate gifts.
PERSONALIZATION
Say something special or add a personal touch. Fromengraving, to embossing; we offer a variety of ways to addyour mark to a INFINITY DUBAI design, making it evenmore meaningful and lovable.
CORPORATE GIFTS AND GIFT VOUCHERS
• Podemos personalizar regalos corporativos.
• We sell gift vouchers, perfect gifts for every budget.Exclusive ideas at all prices.
• Corporate Gifts for employees on any special occasionor company has profited more in a particular time sothey gift to motivate and make them feel special.
The DNA of our brand is made up of the extensive knowledge of the sector and the deep know-how of the raw materials chosen by INFINITY DUBAI. The entire manufacturing process is carried out in the workshops with the utmost care, thus giving life to each of these unique, personal and intimate pieces.

Exclusivity come true.
To simplify the subject of diamond grading, the 4Cs relate to cut, color, clarity, and carat weight – a universal language that was established with the Gemological Institute of America (GIA) and presented to the public around the world. The combination of these factors relatively determines the rarity and value of a diamond.
However, as important as the 4 Cs are in diamond grading reports, they do not express the beauty of a diamond, the most important part of our diamond The selection work is at Infinity Dubai. By hand and eye, we focus on the beauty of each diamond, because a natural diamond should never be purchased initially in your lab technical qualification report. Two diamonds with the same 4Cs can differ greatly in their beauty, one can be dull and lifeless, product of facets and faintly aligned angles, while the other can radiate fire, life and brilliance with perfect facets and good finish.
At Infinity Dubai, we know your interrelationship very well, therefore we can help you find the perfect diamond for every budget. Most importantly, trust your eye, mind, and ultimately your heart's reaction. The diamond you choose should be the one you don't want to take off, regardless of the importance of the 4Cs.
Infinity Dubai claims that all the diamonds it sells are conflict free and are purchased in accordance with international law , the Kimberley Process Certification Scheme.
CARAT
CLARITY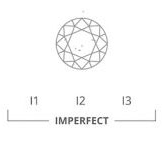 COLOR
CUT
SHAPE
SIZE GUIDE
When buying a ring, bracelet or chain for pendants, it is very important to get the size right. In our jewelry sector there are universal tables on which to base.